Posted on
March 7th, 2019
by roger
Well, my new point-and-shoot camera arrived early this morning… and I charged the battery (a little over two hours for a complete charge, they ship it totally dead).
I've taken a couple indoor pictures (that's generally the worst conditions for color/focus/etc)… INCREDIBLE. The pictures outside are also exceptional considering we've got a marine layer with quite a bit of haze in the air…
For less than $150 delivered this is really a nice camera…
My initial things I like / dislike about it:
Likes:
Price
Rechargeable battery pack (reasonably priced replacements as well)
Resolution – 8.1MP, overkill for a point and shoot
Color – vivid to lifelike
Size – though it may be a little too small
On/Off Switch – it's a slide, not a button (great design)
Dislikes:
Absence of view finder (you have to use the LCD, I'm used to holding a camera to my eye; and most cameras in the class don't have a view finder)
Doesn't ship with an SD card, but you can use the internal memory (actually, maybe this is a plus — they'd ship it with a tiny SD card like other camera manufacturers and what would be the point)
For the number of "features" that the camera has, they've done a good job simplifying the interface… the instruction manual really doesn't do the camera justice.
If you know anyone in the market for a point-and-shoot camera, I'd say this is one of the best deals around (for one with rechargeable batteries).
If you're untested, I got this from Vann's — it's obviously a close out (half price), they only have Silver in stock (no black or what ever the other color is this was offered in).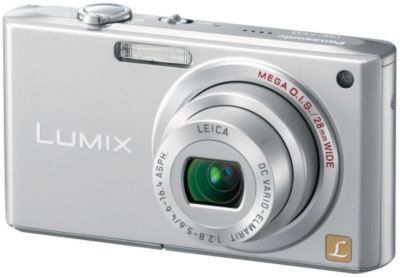 Panasonic DMC-FX33S Features
Compact. Professional. Yours.
The DMCFX33S is a remarkably slim and super-stylish camera. The body features a distinctive finish, with a different texture to match each body color. Its cool design and light weight make it easy to take with you everywhere you go, just like a fashion accessory, for even more photographic fun. The 8.1 megapixel DMCFX33S houses a 28mm wide-angle f/2.8 Leica DC lens in its slim body. Capture large groups of people or expansive architectural structures with the 28mm wide-angle lens. This LEICA DC VARIO-ELMARIT lens inherits both its name and outstanding quality from the LEICA ELMARIT lens, renowned in the film camera world for its superb performance and compact size.
3.6x Optical Zoom with 8.1 Megapixel Resolution
The 8.1 megapixel DMCFX33S is equipped with a 3.6x optical zoom (equivalent to a 28mm-100mm zoom on a 35mm camera) lens that captures beautiful shots of people or landscapes. Use the Extra Optical Zoom when you want to pull the subject in just a little closer. It extends the 3x optical zoom ratio to 5.3x (35mm equivalent: 148mm) at resolutions of 3 megapixels or less, by using the central part of the CCD. Adding the Extra Optical Zoom to the 4x digital zoom extends the total zooming power to a maximum of 21.4x (35mm equivalent: 599mm). With this powerful zooming function, you can easily capture and magnify distant subjects.
Lumix Has The Body And The Brains
Got a wiggly subject, maybe a puppy or a friend playing racquetball? Well, Lumix'll help. Turn the dial to iA (Intelligent Auto Technology) and watch the DMCFX33S work its magic. It not only helps eliminate blur from hand-shake or subject movement, but it will detect up to 15 faces and automatically select the focus, exposure, and scene modes for pristine results. Panasonic invented the MEGA O.I.S. (Optical Image Stabilizer) system to minimize hand-shake, the major cause of blurry images. Together, these outstanding technologies form Intelligent Image Stabilizer. Anybody can take crisp, clear photos in just about any situation.
Great Shooting Options
With the DMCFX33S you can snap off consecutive shooting at 3 frames or 2 frames per second with full resolution. In addition, the Unlimited Consecutive Shooting function lets you continue shooting until your memory card is full for a moving subject or a person's changing facial expression. Then save only the best ones. With a digital camera, you can just delete any shots you don't want (the focus and exposure are fixed at the first frame). You can also easily select between different aspect ratios, including 16:9 wide, 3:2 and conventional 4:3 to shoot in the framing aspect that best suits the photo's composition or purpose of use. You can shoot images in the wide 16:9 format and save them onto an SD/SDHC memory card. Then insert the card into a TV equipped with and SD/SDHC card slot to view them in perfect, wide-screen size. Some TVs will display the images in stunning high definition. The DMCFXC33S lets you shoot smooth motion images at 30 frames/second, complete with sound, in 16:9 WVGA (848 x 480 pixels) or VGA (640 x 480 pixels) size. You can also shoot at 10 frames/second to reduce the file size.
One Good View? Try Twenty
Versatile Scene Modes are a great LUMIX feature. And the Scene Mode list display makes them even easier to select. In addition to the new Sunset and Pet modes, you can choose from a total of 20 situations, including Underwater (use together with optional marine case) and Aerial Photo, for settings that match your subject. Choose Intelligent Auto Mode, and the Intelligent Scene Selector goes to work. The DMCFX33S senses the ambient conditions and automatically selects either the Scenery, Portrait, Macro, Night Portrait, or Night Scenery mode accordingly.
Start Your Engine
The Venus Engine III in the DMCFX33S allows high-sensitivity recording up to ISO 1250 at full resolution. The noise reduction system is also greatly improved while maintaining high resolution. It removes noise at the processing stages in series. First, critical noise is roughly undraped and the chromatic noise and the luminance noise are separated so they can each go through a supplemental noise reduction process that appropriately minimizes the remaining noise. Panasonic slashed the release time lag to 0.005 second minimum by increasing both the circuit speed itself and the point at which the shutter release signal is detected. They also shortened the shutter interval to around 0.5 second (minimum). These improvements help make the DMCFX33S an extremely quick, responsive camera that's a pleasure to use. Despite the significantly increased performance of the camera, the Venus Engine III consumes only 80 percent of the power utilized by the Venus Engine II and is able to achieve a longer battery life of approximately 280 pictures on a single charge.
The Illuminating LCD Feature
Lumix. The word could be a cousin of Luminary, or any body that gives light. Gaze into the brilliant 2.5-inch LCD screen and enjoy the crisp, clear imges. The bright screen makes viewing easy, illuminating your experience.
In The Box
Battery Charger and Pack, Battery Carrying Case, AV & USB Cables, Camera Strap, CD-ROM. Included Software: SILKYPIX® Developer Studio (2.1SE and 2.0SE), ArcSoft® Panorama Maker&trade, MediaImpression&trade, Photompression&trade, and PhotoBase&trade, USB Driver, Lumix® Simple Viewer, Photo Fun Studio
Originally posted 2008-07-17 12:38:43.